Lengthwise slicers for the production of veneers and/or lamellae (slats)
Slicing ~4mm lamellae (Oak – Quercus) live

The lengthwise slicing method of the timber along the fiber by means of our MARUNAKA slicers has a proven positive effect regarding the quality of lamellae and veneers, because through the lengthwise slicing method only ~30% of the fibers are cut through! Therefore, both lamellae and veneers are of first-class quality.
Traditional crosswise slicers cutting the timber always in crosswise direction of the fiber. Therefore, ~70% of the wooden fiber are cut through those leads to a significant weakening of the timber (proofed by the TU Dresden/Germany). That's why lengthwise sliced veneers are significantly more stable and also suitable for profile wrapping up to radius 1.
High saving potential of important resources without losing your valuable raw material wood is guaranteed due to lengthwise slicing. In addition, there is no sawdust.
Note: Every single piece of timber is unique! Timber is sustainable and a renewable raw material.
Knives from Japan are known worldwide since many years of technology and KNOW-HOW and guarantee the highest quality of the sliced surfaces, as well as long-lasting sharpness, high performance and very long-life time of the knives.
These one-of-a-kind Japanese knives together with our special knife grinder built an integral part for your end customer-oriented product.
Technical features.
In principle, the flitches do not have to be clamped in a time-consuming manner on our slicers. That means: on our slicers the flitch change is always easy, quick and uncomplicated.
No length limits of lamellae and veneers: MARUNAKA lengthwise slicers doesn't have length limitations of the flitches.
Our MARUNAKA lengthwise slicers are produced for veneer up to 500mm resp. lamellae up to 350mm widths. Range of slicing thicknesses from ~0.5mm up to 5.0mm. In general, all slicers are PLC-controlled.
For increasing the capacity of our slicers up to ~100% our delivery program includes individual designed automation systems so called Merry-go-Round systems. Such automation systems transport simultaneously several flitches that are sliced completely down until reaching the back board (<10mm thickness).
LVL - Laminated Veneer Lumber
LVL panels
With our lengthwise slicers you can also slice lamellae (slats) for the production of LVL-panels among others.
A leading Italian institute tested thinner LVL panels based on lengthwise sliced lamellae which have a higher stability / load capacity as conventional thicker LVL panels made of peeled veneer. In summary, a saving of timber and adhesive of totally up to ~20% could be proven. This means reducing manufacturing costs for LVL and also transport costs for the finished product, therefore more material can be loaded on trucks.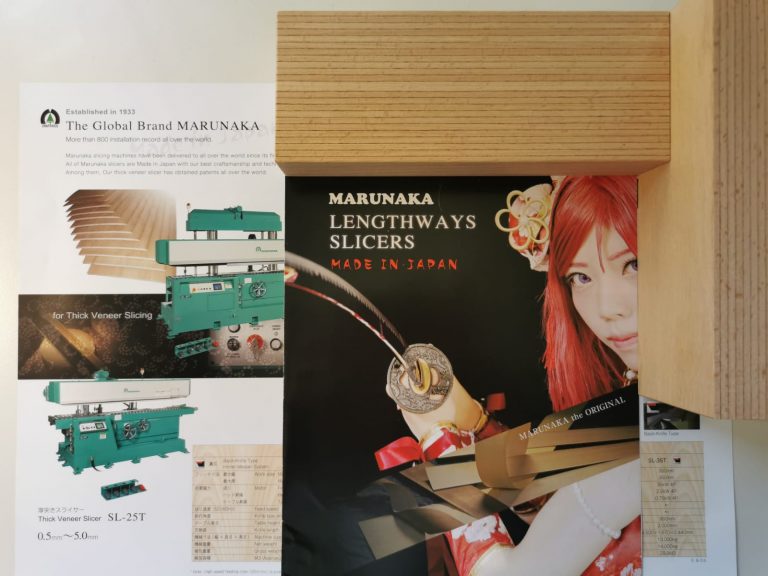 MICRO-veneers: we can also slice thinner than you believe!
Do you have high-value timber species to process for first-class surfaces or special applications?
You can slice MICRO-veneers <0,1mm thickness by means of our special slicers, in order to present a uniform decor of the same wood grain on larger surfaces or for special applications, among others.
Our outstanding tool grinding technology.
In conjunction with our high-quality precision knife grinder, you get highest quality of the sliced lamellae and veneers for your customers.
Furthermore, maximum sharpness, maximum durability and long-life time of your knives is guaranteed. Therefore, you always supply high quality, high-class natural veneers to your customers.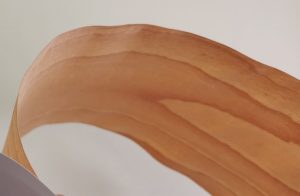 Upon prior request, MARUNAKA is ready to carry out slicing tests with your individual timber species. Be convinced by the test result. Please contact us beforehand for individual coordination.
We are happy to take on your challenges at any time! With us you have a reliable partner to find the solution! Since more than 45 years MARUNAKA has excellent experience in the development, design and construction of lengthwise slicers, with satisfied and successful customers all over the world.
In addition, STORCH INDUSTRIE-ANLAGEN GmbH has also over 45 years of experience in engineering of plants for the wood working industry in various parts of the world.
It is your benefit and our goal to provide you professionally and competently with our future-oriented technical support!
MARUNAKA has been successfully manufactured patented veneer slicing machines since 1973. In the meantime, nearly 1,000 MARUNAKA slicers have been installed and used worldwide.
Storch Industrie-Anlagen GmbH
Eilenau 123
GER 22089 Hamburg / Germany