Omega Type Dryer (sinusoidal guided belt)

Sliced lamellae (slats) needed to be pre-dried from max. IMC to ~25-30% (±2%) FMC for final drying in kilns whilst sliced and/or peeled veneers needed to be dried from max. IMC to ~10% (±2%) resp. ~12% (±2%) FMC.
Lamellae (slats) – Solution: Pre-drying, ironing and flattening of the lamellae (slats) before final drying process in the kilns plus accurate stacking of the lamellae (slats) is an important prerequisite for a perfect and uniform kiln drying of the lamellae (slats).
In addition, this significantly shortens the drying time in the kilns and reduces the number of dryer capacities required.
Sliced Veneer – Solution: Drying of high-quality veneer (fancy veneer) for the production of non-waved veneers especially for species which are difficult to dry.
Peeled Veneer: Individual solutions are also designed for peeled veneers.
Option: Automatic lamellae (slats) loading and stacking equipment. Manual loading and unloading of the veneer dryers are standard execution and fully automatic loading and unloading equipment are individually designed for tailor-made execution.
The various versions are always adapted to the individual requirements.
Also roller dryers with one (1) or up to four (4) layers (working width 2,800 mm) for drying peeled veneers are available on special request.
Due to the OMEGA guiding system the arrangement of the belts in the dyer the space requirement is reduced significantly. The system is very energy am quality saving because of careful and smooth pre-drying process without cracks.
Dryer In- and Outfeed Section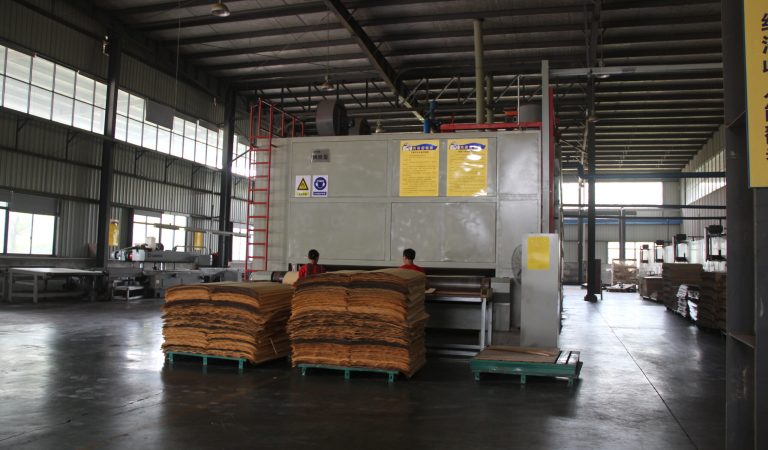 Dryer Infeed Section

Typical manual loading of an Omega-Type dryer with veneers or lamellas (slats) depending on the individual design resp. customers requirements.

Dryer Outfeed Section

Lamellae (slats) or veneers leave the Omega-Type dryer flattened depending on the final moisture content (FMC) required.
Technical features of the Dryers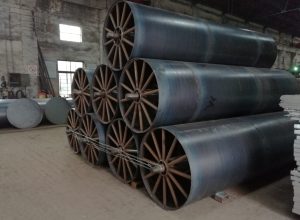 Guide Rollers

The belt dryers have big main deflection pullys of 1,000 mm up to 1,200 mm diameter for thick lamellae. These pullys should prevent the lamellae (slats) but also veneers against cracks resp. breaking or bending. The giant pullys in conjunction with the mesh belt (made of stainless steel) prevents the veneer or lamellae (slats) from uncontrolled shrinking while also ensuring that the material come out of the dryer absolutely flattened.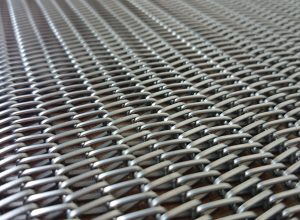 Mesh Wire Belt
Special stainless
steel mesh belt with flattened wire (SS304 [ANSI]/EN1.4301) for ironing all kind of veneers
and lamellae (slats) during drying process. Full protection against surface
marking.
The carrier mash belt as well as the cover mesh belt are always of the similar design.
Our dryers has a wide range of possilities. Just contact us for our special tailor-made quotation.
For the European Union (EU) all our machines are fully CE certificated in accordance with the EC machine directive 2006/42/EC!
Storch Industrie-Anlagen GmbH
Eilenau 123
GER 22089 Hamburg / Germany